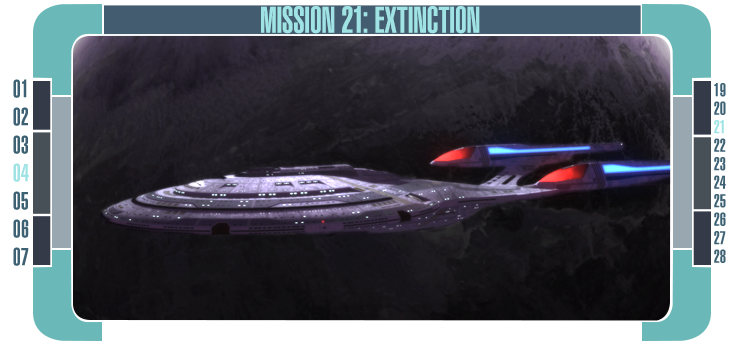 The Golden Stars lurked in the shadows. The Consortium destroyed from within. The Dolmoqour used the best parts of yourself to betray your kin.

For the last two years, the crew of the Century-Class USS Black Hawk have been forced through the tumbler where rocks become precious gems. This ship and crew now are among the best and the brightest in the Gamma Quadrant. Some have started families, others have found love, and others find solace in the bottom of a bottle.

The USS Black Hawk is now returning to the unknown, no longer on missions to dig and investigate deep, dark secrets, but to boldly go where no one has gone before. Little do any of them know that what they will soon encounter will be their greatest test of all!

Are you among the brave, bold, and curious in the Federation? Do you want to be a part of a decorated sim that has received multiple accolades from the simming community at large, including being recognized as a 2018 Squiddie recipient? Then the Black Hawk is for you!
Posted on 03 Aug 2021 @ 8:43pm by Lieutenant Commander Joey Geisler & Captain Harvey Geisler
The alarm was seconds away from sounding, and Joey found herself rolling over in bed to turn it off before it could. She couldn't remember the last time she'd slept so soundly or felt so rested, but here she was experiencing both. It was a rare occurrence, but definitely welcome.…
Posted on 03 Aug 2021 @ 12:15pm by Captain Harvey Geisler & Lieutenant Jennin Rhula & Ensign Shay Mitchell & Ensign Aidan Crehan
In the time it took for Doctor Jennin to join the Away Team on the surface, Captain Geisler and Ensigns Crehan and Mitchell had finished exploring the rest of the building. There wasn't much of interest, at least nothing that wasn't unlike most of decay in the building. The only…
Posted on 03 Aug 2021 @ 3:45am by Lieutenant Commander Joey Geisler & Lieutenant Commander Arjin Djinx & Ensign Quinn Mackie & Ensign Sarah Proctor & Ensign Aidan Crehan
Joey stood near the opening that led down to the underground cave that was found and looked at those present. "We don't know what things are going to look like once we're down there, so everyone be careful and watch your step," she said as she checked over their gear.…
Posted on 03 Aug 2021 @ 2:37am by Senior Chief Petty Officer Mila Rasputin & Eden Corwin
After Harvey left, Mila gave Eden a smile. "Come, there is much to be learning and short time to be doing it. I am having simple system, though, and will teach you best way of sorting things." She turned and headed back into her small office and activated her console.…
Posted on 03 Aug 2021 @ 1:09am by Lieutenant JG Kemm & Lieutenant Commander Arjin Djinx & Lieutenant Zayna Ryler
Zayna had been frustrated. It'd been too long, and engineering had been dealing with too many rusty repairs for her liking. Not as many as there could have been, which she was glad about, but still too many. She'd been trying to find the source or some way to stop…
Posted on 24 Jul 2021 @ 1:53pm by Captain Harvey Geisler in General News
Hello all,

I've hinted this on several occasions, many times privately, but today I'm excited to announce a sister sim to the USS Black Hawk... Gamma Command!

Its pacing and structure is different than the Black Hawk. Departments will be mainly independent, and will have occasional interaction. The story possibilities are virtually endless. Here's a little more about the sim itself:

The current sim year is 2390 (matching that of the USS Black Hawk) and while construction on Gamma Command continues, operations within the base have commenced. In addition to regular base operations, Gamma Command:




is responsible for the security of the Ha'dara system


holds the HQ for admiralty operations


features a full repair and service yard and docking system, capable of supporting up to 16 ships


houses Search and Rescue, Scientific and Technical Assessment Teams, a full Starfighter Wing


...and more!


Our unique premise allows for an open-world environment! Once on board, you're welcome to casually stroll throughout the starbase, or even lead an entire department on your own. You're also free to link up with existing players and collaborate on the various storylines that are developing. You can read more about our world and how it operates here.

Now that the site is public and you all are likely browsing it, you may notice a couple familiar faces on the roster. The first being Zachary O'Connell. He was my first character, and I got to revive him a bit in a former fleet. I'm excited to be playing him again full time! You'll also notice that the Starfighter Wing will be commanded by our very own... Commander Terry Walsh? That's right. Walsh will be transferring to Gamma Command following this mission. The player will be replacing his XO position here with a new character at that time.

Gamma Command is also not tethered to any fleet. 100% independent. Its canon will be meshed with the Black Hawk. While each sim can impact the other, they are still largely independent from each other, especially since we explore different parts of the Gamma Quadrant.

It's an exciting time, and I definitely look forward to diving more into Gamma Command. The Black Hawk isn't going anywhere. In fact, I hope she's got at least eight years left in her. Thank you all for listening, and happy simming!
Posted on 13 Jul 2021 @ 12:01pm by Captain Harvey Geisler in Sim Announcement
Hello all,

Yesterday, 22nd Fleet announced its quarterly awards. I'm excited to tell you all that the Black Hawk won Sim of the Quarter at the Gold level. This is 22nd Fleet's highest honor for a sim. We have not won a gold award since October 2019, and haven't received a Sim of the Quarter award at all since the same year.

This high honor would not have been possible without all of the fantastic writing from each and every one of you. Congratulations to all!

I also want to give a shout-out to Camila for winning Player of the Quarter at the Silver level. As many of you know, our Chief of Security is a well-developed character, and Camila plays her with absolute finesse.

Thank you all for being a part of this fantastic sim. You are the reason why I continue to do what I do here at the Black Hawk and the larger simming community.

You can read 22nd's announcement by clicking here.
Posted on 17 Jun 2021 @ 1:58pm by Captain Harvey Geisler in Arrivals
Please welcome our newest civilian with an interest in science, Conrad Hawkingsson!
Posted on 13 May 2021 @ 2:13pm by Captain Harvey Geisler in Arrivals
Please welcome Ensign Kendra Kyle, our newest pilot in the 325th! She will be piloting Bravo Three.
Posted on 10 Apr 2021 @ 1:56pm by Captain Harvey Geisler in General News
Hello everyone!

I was checking a few things out on the backend, and I made a discovery! It turns out, the post "Late Physical" was this sim's 1,500th post! Our posts are tracked by item published, not the writers involved in them, which makes this feat even more incredible.

1,500 posts in less than 8 years. This truly is incredible! There is a lot more fantastic writing going on behind the scenes, and I am loving how this mission is starting to come alive.

Thank you all for over 1,500 fantastic posts, and here's to 1,500 more!