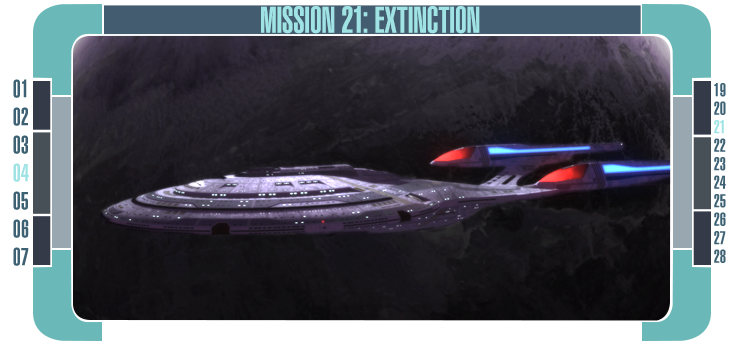 The Golden Stars lurked in the shadows. The Consortium destroyed from within. The Dolmoqour used the best parts of yourself to betray your kin.

For the last two years, the crew of the Century-Class USS Black Hawk have been forced through the tumbler where rocks become precious gems. This ship and crew now are among the best and the brightest in the Gamma Quadrant. Some have started families, others have found love, and others find solace in the bottom of a bottle.

The USS Black Hawk is now returning to the unknown, no longer on missions to dig and investigate deep, dark secrets, but to boldly go where no one has gone before. Little do any of them know that what they will soon encounter will be their greatest test of all!

Are you among the brave, bold, and curious in the Federation? Do you want to be a part of a decorated sim that has received multiple accolades from the simming community at large, including being recognized as a 2018 Squiddie recipient? Then the Black Hawk is for you!

Posted on 30 Sep 2022 @ 1:17pm by Lieutenant JG Kemm & Lieutenant Zayna Ryler
Having double and triple checked the scans, Zayna found the best place she could for them to setup the containment field for the filaments and pull any stragglers in. With the filaments spread throughout the secondary hull, however, they'd have to leave it up for some time.

"I think this…
Posted on 06 Sep 2021 @ 9:06pm by Ensign Kelly Khan & Lieutenant JG Daniella Blake
The time had come.

Dani took a deep breath and let it out slowly. It was time to tell her best friend she was transferring. She didn't expect it to go well, but hoped it wouldn't go too horribly. After all, they would still get to see one another, just…
Posted on 22 Aug 2021 @ 11:29pm by
Ensign Clark Roberts, low man on the pilot totem pole, was busy pulling extra duty. It was something that he didn't like too much. As a matter of fact, most people didn't like extra duty. This one, though, was a little more active. He was transferring support craft from the…
Posted on 12 Aug 2021 @ 3:35pm by Captain Harvey Geisler & Lieutenant JG Kemm & Petty Officer 3rd Class Klim Sokamin & Lieutenant Commander Camila Di Pasquale & Lieutenant Zayna Ryler & Lieutenant JG Ian Beckett
As the USS Zambezi landed on Sadoria as close to the site where PO3 Sokamen had pointed the alien craft in the picture out, Camila found herself questioning the training of her personnel and the drone pilots in particular. Why had no one looked up and saw the damned thing?…
Posted on 12 Aug 2021 @ 12:26am by Lieutenant Avery Stuart Ph.D. & Commander Terry Walsh
***

It wasn't very often Avery traveled anywhere near the bridge or the command staff offices. Recently, Tivan had done most of the command level advising from the bridge, while Avery handled the vast majority of the clinical duties. No, however, Avery felt an obligation to do damage control and…
Posted on 22 Sep 2022 @ 10:26pm by Captain Harvey Geisler in Sim Announcement
Hello everyone,

A few decisions have been made about the sim. This public update shall serve as a summary of those updates:

GENERAL DETAILS
-- New Class: Akria (Refit) -- specs coming soon...
-- Registry: NCC-63554-B
-- IC "Launch" Date: May 21, 2390 -- 6 weeks after the "end" of the last mission

IMMEDIATE CREW OPENINGS
-- Chief Engineering Officer
-- Chief Medical Officer
-- Squadron Commander
-- Chief Flight Control Officer
-- Civilian Affairs Liasion

SIM DETAILS
-- Relaunch Date: Approx. October 7, 2022
-- Initial Mission: "Rebuilding" for Character Development, new mission to follow after

More details will follow soon, but I wanted to at least get this information out there. The site's skin will receive an update in the coming days, and the information here and on the wiki will get a clean up. If you have any questions, feel free to hit me up on Discord or in PM here on the site.

Thanks all!
Posted on 28 Jun 2022 @ 3:03am by Captain Harvey Geisler in Sim Announcement
Hi everyone,

It's been a couple months since the survey, and I'm sure everyone is wondering what is up. Those of you on Discord already have an idea, but I wanted to share here that my current focus is on resuming Gamma Command first. This is largely because the nature of the GC sim doesn't have as much history as the Black Hawk, and it's easier to slide back into writing.

Does that mean I'm done with Black Hawk? No. It just means that BH will take more of my resources to relaunch. I still haven't settled with what to do about the ship itself, or whether or not I will officially replace my CO character. Too many variables in my personal life.

For now, I'm focusing on GC while still trying to fix a few things in my personal life. There are 9 players on Black Hawk, and 7 of them are on GC. Should Milo and T'Mari wish to join us there with new characters, they are welcome to do so. But for now, BH will remain in limbo until such time is presented to me.

If anyone has any questions, feel free to shoot me a email, or catch me over on Discord. Thanks all.

-Le Frog
Posted on 06 Sep 2021 @ 8:24pm by Captain Harvey Geisler in Sim Announcement
Hi everyone.

It's barely been 24 hours, but I have bad news. I have decided to close the Black Hawk. Things went from bad to worse last night.

I will stepping away from simming altogether. I may eventually return, but for now, it's time to do this. This is not how I wanted it to end, but here we are. Thank you all for many great years of writing. I really enjoyed our time.

I'll leave the site up for a few weeks to let you all get what you want, and then I'll be shutting it all down.

Sim long and prosper all.

-Andrew
Posted on 24 Jul 2021 @ 1:53pm by Captain Harvey Geisler in General News
Hello all,

I've hinted this on several occasions, many times privately, but today I'm excited to announce a sister sim to the USS Black Hawk... Gamma Command!

Its pacing and structure is different than the Black Hawk. Departments will be mainly independent, and will have occasional interaction. The story possibilities are virtually endless. Here's a little more about the sim itself:

The current sim year is 2390 (matching that of the USS Black Hawk) and while construction on Gamma Command continues, operations within the base have commenced. In addition to regular base operations, Gamma Command:




is responsible for the security of the Ha'dara system


holds the HQ for admiralty operations


features a full repair and service yard and docking system, capable of supporting up to 16 ships


houses Search and Rescue, Scientific and Technical Assessment Teams, a full Starfighter Wing


...and more!


Our unique premise allows for an open-world environment! Once on board, you're welcome to casually stroll throughout the starbase, or even lead an entire department on your own. You're also free to link up with existing players and collaborate on the various storylines that are developing. You can read more about our world and how it operates here.

Now that the site is public and you all are likely browsing it, you may notice a couple familiar faces on the roster. The first being Zachary O'Connell. He was my first character, and I got to revive him a bit in a former fleet. I'm excited to be playing him again full time! You'll also notice that the Starfighter Wing will be commanded by our very own... Commander Terry Walsh? That's right. Walsh will be transferring to Gamma Command following this mission. The player will be replacing his XO position here with a new character at that time.

Gamma Command is also not tethered to any fleet. 100% independent. Its canon will be meshed with the Black Hawk. While each sim can impact the other, they are still largely independent from each other, especially since we explore different parts of the Gamma Quadrant.

It's an exciting time, and I definitely look forward to diving more into Gamma Command. The Black Hawk isn't going anywhere. In fact, I hope she's got at least eight years left in her. Thank you all for listening, and happy simming!
Posted on 13 Jul 2021 @ 12:01pm by Captain Harvey Geisler in Sim Announcement
Hello all,

Yesterday, 22nd Fleet announced its quarterly awards. I'm excited to tell you all that the Black Hawk won Sim of the Quarter at the Gold level. This is 22nd Fleet's highest honor for a sim. We have not won a gold award since October 2019, and haven't received a Sim of the Quarter award at all since the same year.

This high honor would not have been possible without all of the fantastic writing from each and every one of you. Congratulations to all!

I also want to give a shout-out to Camila for winning Player of the Quarter at the Silver level. As many of you know, our Chief of Security is a well-developed character, and Camila plays her with absolute finesse.

Thank you all for being a part of this fantastic sim. You are the reason why I continue to do what I do here at the Black Hawk and the larger simming community.

You can read 22nd's announcement by clicking here.