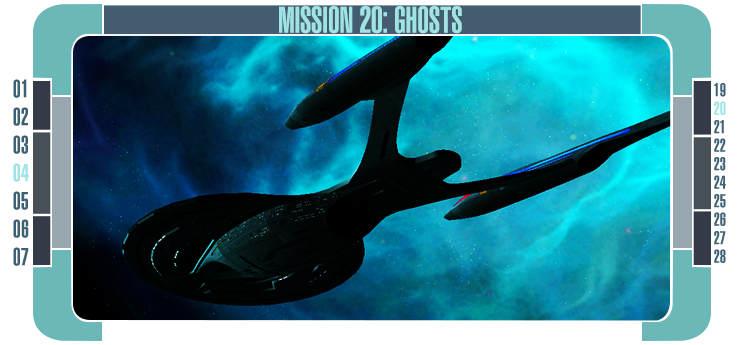 The Golden Stars lurked in the shadows. The Consortium destroyed from within. The Dolmoqour used the best parts of yourself to betray your kin.

For the last two years, the crew of the Century-Class USS Black Hawk have been forced through the tumbler where rocks become precious gems. This ship and crew now are among the best and the brightest in the Gamma Quadrant. Some have started families, others have found love, and others find solace in the bottom of a bottle.

The USS Black Hawk is now returning to the unknown, no longer on missions to dig and investigate deep, dark secrets, but to boldly go where no one has gone before. Little do any of them know that what they will soon encounter will be their greatest test of all!

Are you among the brave, bold, and curious in the Federation? Do you want to be a part of a decorated sim that has received multiple accolades from the simming community at large, including being recognized as a 2018 Squiddie recipient? Then the Black Hawk is for you!
Posted on 20 Oct 2020 @ 7:04am by Commander Terry Walsh & Kelinor Voseh & Lieutenant Commander Joey Geisler & Lieutenant Commander Camila Di Pasquale & Lieutenant Dijaat Parker & Lieutenant Jennin Rhula & Lieutenant Zayna Ryler & Story Teller
Previously in "Okay, Who Brought the Dog?"...

***Engineering Team***
"Copy that. Walsh out." He turned to the others, wondering if any of them had any kind of security or protection-type training. An Engineer, a scientist, and a doctor...he chuckled to himself as it almost sounded like the start of a…
Posted on 18 Oct 2020 @ 5:14pm by Lieutenant JG Charles McCullen
A Cardassian Legit with half a face lurched towards him, the half of its mouth that was not burned away was moving, speaking, but there was no sound. The one black eye stared at nothing. He scrambled backwards, along the debris littered deck, wanting to scream but not finding any…
Posted on 18 Oct 2020 @ 1:00am by Ensign Kelly Khan & Story Teller & Holographic Assistance and Support Avatar HASA
"Stupid, incompetent, privileged, baby faced, snot nosed punk..." Kelly muttered as she left the Auxiliary Bridge and headed to go do something. Flight Control was an option because the bridge wasn't and when the Chief of Flight showed up on it, she had been pushed aside and dismissed.

She was…
Posted on 17 Oct 2020 @ 11:35pm by Lieutenant Commander Camila Di Pasquale & Commander Terry Walsh
Camila was furious, but schooled her face to neutral as she stalked towards the Executive Officer's office. The computer had said he was there, but recently, the computer had lied. She had skipped briefing her department as she felt the need to clear the air between her and Terry and…
Posted on 17 Oct 2020 @ 2:59am by Captain Harvey Geisler & Lieutenant Commander Camila Di Pasquale & Lieutenant JG Charles McCullen & Kelinor Voseh
Lieutenant McCullen sighed at his console as he adjusted the thruster output for the twentieth time in the last ten minutes to keep the Black Hawk in position inside the nebula. In normal circumstances the computer would be doing that all by itself, but with the recent anomalies it was…
Posted on 12 Sep 2020 @ 12:57pm by Captain Harvey Geisler in Website Update
We have moved! You can now find us at https://blackhawk.anurasims.com.

Please update your bookmarks. I have set up redirects to help you move to the new site as well. Enjoy!
Posted on 11 Sep 2020 @ 3:29pm by Captain Harvey Geisler in Website Update
Hello everyone,

As a reminder, we are in the middle of a migration. The wiki (database) has already been moved. Our main site will be moved this weekend, likely on a Saturday morning. I will provide notice on Discord when I do, and the site will be locked in the interim.

The site will be backed up today. Please do not upload anything further to the site. You are free to continue tagging until the site is locked as the database is independent of the site. I'll keep you all posted on Discord once the journey begins.

Wish me luck!
Posted on 05 Sep 2020 @ 2:26pm by Captain Harvey Geisler in Website Update
When I started up the Black Hawk about 6 years ago, I could not have imagined the wondrous journey that would follow. Not only have we been through 20 missions together and two fleets, we have gone from extraordinary situations from a hosting standpoint as well.

We started with free, as do most. Then, when we implemented mediawiki, I had to start paying to cover the utilized bandwidth. It started as an account upgrade, and then to a full-blown domain.

What I did not anticipate at the time was that my simming "career" would take on other interests as well. I've managed a TOS Movie Era sim (USS Delphinus) and now a DSC/TOS alternate universe era sim (USS Lexington) all while starting to entertain the idea of a Starbase sim set aboard Gamma Command with Admiral O'Connell in the Gamma Quadrant.

To avoid large hosting bills each month, I've kept my resources consolidated with the Black Hawk. My wallet enjoys this, but my vanity doesn't. It's a bit unfair to the Lexington to have lexington.ussblackhawk.com as its domain. Therefore, I have begun some changes to the infrastructure.

The first step was to purchase a new domain, which is anurasims.com. Anura is the "order" for amphibians, specially frogs. Kinda fitting for a guy whose avatar is Kermit.

The next step will be to migrate all of my sims, including the Black Hawk, over to this domain. The downside to this is that we will no longer be using ussblackhawk.com. I will set up redirects when the time comes and we'll have a period of time when the site won't be accessible while the transition is underway.

I do not have a time scheduled for this transition, but I will be doing it during the month of September. I will provide ample notice when when the site will be down. Once complete, all you'll notice is that we just have a new web address. Everything else will play out as normal.

Thank you for your patience during this transition, and most importantly, thank you so much for all of your wonderful support. The Black Hawk is an incredible place thanks to players like you!

~Andrew / HG
Posted on 11 Aug 2020 @ 2:13am by Captain Harvey Geisler in Arrivals
Please welcome Lieutenant Fairchild, our new Assistant Chief Security Officer. Watch out for heartless holograms!
Posted on 19 Jul 2020 @ 1:46pm by Captain Harvey Geisler in Website Update
Happy Sunday, everyone!

I hope you all are having a good weekend. I wanted to take a moment and let everyone know that I have uploaded a new skin to our site and changed the default view for all logged-out users. If you have not set your individual preferences, then you should see this change as well.

In addition, I've also updated our ranks to feature the new look as featured in Star Trek Picard. These pips also now match the uniforms we wear.

To change your preferences, once logged in, select the "Settings / Dashboard" icon (Gear) in the uppermost menu, select "Edit Site Preferences." When the page loads, set you main and admin sites to "Black Hawk 2020." Click "Update" and then click on any new page to see the changes.

Enjoy! And let me know if you find any weird bugs!

-greenfelt