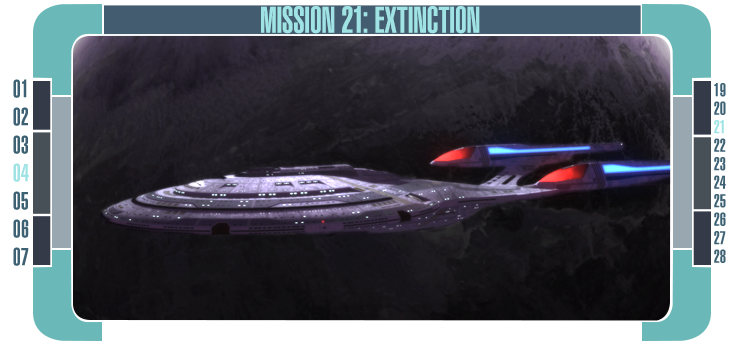 The Golden Stars lurked in the shadows. The Consortium destroyed from within. The Dolmoqour used the best parts of yourself to betray your kin.

For the last two years, the crew of the Century-Class USS Black Hawk have been forced through the tumbler where rocks become precious gems. This ship and crew now are among the best and the brightest in the Gamma Quadrant. Some have started families, others have found love, and others find solace in the bottom of a bottle.

The USS Black Hawk is now returning to the unknown, no longer on missions to dig and investigate deep, dark secrets, but to boldly go where no one has gone before. Little do any of them know that what they will soon encounter will be their greatest test of all!

Are you among the brave, bold, and curious in the Federation? Do you want to be a part of a decorated sim that has received multiple accolades from the simming community at large, including being recognized as a 2018 Squiddie recipient? Then the Black Hawk is for you!
Posted on 14 Jun 2021 @ 6:35pm by Lieutenant Lucas Abrams M.D. & Ensign Kelly Khan & Ensign Sarah Proctor
At the bottom of the incline, Kelly groaned and raised up from the ground, rubbing the side of her face that had been scratched in the fall. "Guys? Hey? Hello? You hear me?!"

Lucas laid against the cold, damp ground with his eyes closed. His ears were ringing, and there…
Posted on 13 Jun 2021 @ 1:26pm by Lieutenant Commander Camila Di Pasquale & Captain Harvey Geisler
After arriving back at the base camp, Camila went to check in with the personnel who had been stationed there. Of the six, four were on patrol and Petty Officer Second Class Jablonski, a bulky human and Crewman M'Rille, a lanky Caitian with dark colored fur remained at the base.…
Posted on 10 Jun 2021 @ 1:07pm by Petty Officer 3rd Class Klim Sokamin & Lieutenant Zayna Ryler & Lieutenant JG Charles McCullen & Lieutenant JG Daniella Blake
Charlie sat at the helm console of the USS Zambezi and tried not to fidget, he'd already run through the checklists and brought the runabout to readiness for departure, he was simply waiting for the rest of the away team to show up. There would be intelligence, science, and medical…
Posted on 09 Jun 2021 @ 8:56pm by Lieutenant Commander Joey Geisler & Lieutenant JG Daniella Blake & Captain Harvey Geisler & Lieutenant Commander Camila Di Pasquale & Lieutenant Commander Landon Milo MD & Lieutenant Jennin Rhula & Lieutenant T'Mari Rael
The familiar sound of the transporter filled Sickbay as an unconscious T'Mari arrived with Camila and Joey.

Dani looked up from what she was doing at reception and blinked when she saw the three women appear in sickbay. She saw Commander Geisler cradling the head of a woman she wasn't…
Posted on 09 Jun 2021 @ 2:32am by Lieutenant Commander Camila Di Pasquale & Lieutenant JG Ian Beckett
It had been a while since Camila had last seen Ian and she found herself missing him despite not being in any type of serious relationship with the handsome man. She had been working steady on the Security aspect of the Black Hawk-A and had been throwing herself into her…
Posted on 13 May 2021 @ 2:13pm by Captain Harvey Geisler in Arrivals
Please welcome Ensign Kendra Kyle, our newest pilot in the 325th! She will be piloting Bravo Three.
Posted on 10 Apr 2021 @ 1:56pm by Captain Harvey Geisler in General News
Hello everyone!

I was checking a few things out on the backend, and I made a discovery! It turns out, the post "Late Physical" was this sim's 1,500th post! Our posts are tracked by item published, not the writers involved in them, which makes this feat even more incredible.

1,500 posts in less than 8 years. This truly is incredible! There is a lot more fantastic writing going on behind the scenes, and I am loving how this mission is starting to come alive.

Thank you all for over 1,500 fantastic posts, and here's to 1,500 more!

Posted on 02 Apr 2021 @ 2:21pm by Captain Harvey Geisler in General News
Please welcome our newest Counselor, Lieutenant T'Mari Rael!
Posted on 22 Mar 2021 @ 3:33pm by Captain Harvey Geisler in General News
Happy Monday, everyone!

As some of you are aware, we have entered the Tournament of Simulations the past four years. The winners were just announced, and I'm happy to report that the USS Black Hawk was listed among the winners!




The full announcement, along with the list of the remaining winners, can be found HERE.
Posted on 17 Mar 2021 @ 2:04am by Captain Harvey Geisler in Website Update
Hello everyone, and welcome back to the USS Black Hawk!

Thank you for your patience as we performed some not needed, but very nice under-the-hood changes. Let's take a look at some of our cool toys...

First, Mission Posts now have a Summary feature. You can add a summary to any post you write that can quickly describe the actions taken within the post. This can be really helpful for some of our really long epics to summarize the actions we've taken. Feel free to add this to any of the current posts in progress!

Second, it's high time we standardized time. Some of you may be familiar with this feature already, but this one has some added perks. While I currently have it selected for "Day and Time", I can change it to either Stardate, or I can change it to Date and Time (where you can actually enter a calendar date). I have it defaulted to Day and Time for now, but we can always change it later. I've already updated ALL Extinction Mission posts with this new system.

Third, we have a new Wiki Parser! This means you can now add wiki links with absolute ease to your posts if you want. All you have to do is get the name of your wiki article, such as "Probes" and follow this format (remove all of the spaces)

[ wiki | Probes ]

I'll place an example in the OOC Chat for reference with other particulars.

Fourth, I made some slight styling changes on the admin panel, and I'm working on adding support for bulleted lists.

But, as mentioned earlier, we're back up and running. Enjoy!

- Captain Geisler